Secret Ingredient Butternut Squash Soup
By
Bobby Deen
JUMP TO RECIPE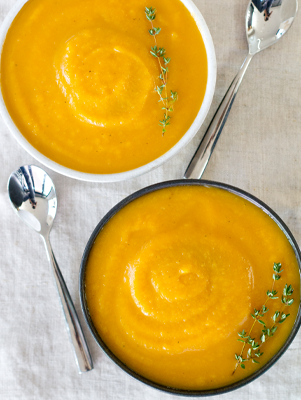 Featured in:
From Mama's Table to Mine
Difficulty: Easy
Prep time: 10 minutes
Cook time: 35 minutes
Servings: 6 to 8
Ingredients
1 tablespoon olive oil
1 tablespoon unsalted butter
1 medium onion, coarsely chopped
1 medium butternut squash, peeled, seeded, and cut into 1-inch chunks (3 cups)
1 medium apple, peeled, cored, and coarsely chopped
5 cups low-sodium chicken broth
¼ teaspoon dried thyme
1 container (14 ounces) soft tofu, drained
freshly ground black pepper
low-fat 2% Greek-style yogurt, for serving
ground cinnamon, for serving
Directions
In a medium pot, heat the oil and butter over medium heat. Add the onions and cook until softened, about 5 minutes. Add the squash, apples, chicken broth, and thyme. Then add the tofu, breaking it into pieces with a wooden spoon. Bring to a boil, then lower the heat and let the soup simmer, partially covered, until the squash is very soft, about 20 minutes.
Puree the soup using a blender, food processor, or immersion blender. If necessary, return the soup to the pot to warm up and season to taste with pepper. Serve with a healthy dollop of yogurt and sprinkle on a little cinnamon.