Good Morning Pumpkin-Corn Muffins
By
Bobby Deen
JUMP TO RECIPE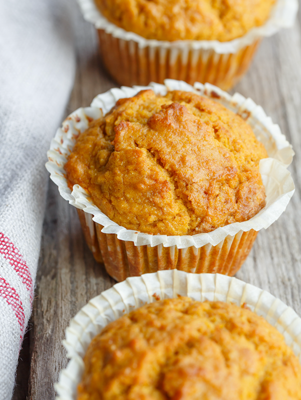 Featured in:
From Mama's Table to Mine
Difficulty: Easy
Prep time: 10
Cook time: 20 minutes
Servings: 12
Ingredients
1½ cups all-purpose flour
½ cup cornmeal
½ cup sugar
1½ teaspoons baking powder
½ teaspoon baking soda
½ teaspoon ground cinnamon
¼ teaspoon salt
¾ cup canned pumpkin
½ cup 1% buttermilk
¼ cup vegetable oil
2 large eggs, lightly beaten
1 teaspoon pure vanilla extract
grated zest of 1 orange
Directions
Preheat the oven to 350˚F. Spray a 12-cup muffin pan with cooking spray.
In a medium bowl, whisk together the flour, cornmeal, sugar, baking powder, baking soda, cinnamon, and salt. In another medium bowl, combine the pumpkin, buttermilk, oil, eggs, vanilla, and orange zest. Using a rubber spatula, fold the pumpkin mixture into the flour mixture until just combined.
Spoon the batter into the prepared muffin pan, dividing evenly, and bake for about 20 minutes, until a toothpick inserted into the center of a muffin comes out clean. Let the muffins cool in the pan for 5 minutes, then turn the pan over to pop them out onto a wire rack to cool for another 10 minutes. Muffins can be stored (once completely cooled_ in an airtight container for several days.