Pumpkin Risotto with Sage and Spicy Sausage
By
Paula Deen
JUMP TO RECIPE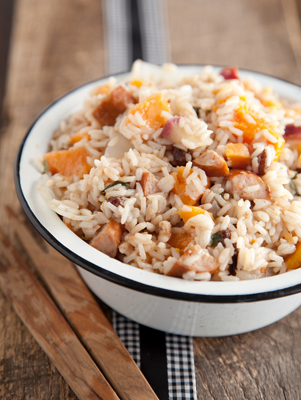 Difficulty: Medium
Prep time: 15 minutes
Cook time: 15 minutes
Servings: 6-8
Ingredients
6 cups (homemade chicken stock is preferred) low sodium chicken broth
2 cups cut into 1/2 inch thick cubes pumpkin
3 casings removed, pinched into 1/2-inch-thick pieces. (3/4 pound of ground hot€ Italian sausage may be substituted) hot Italian sausages
1 tablespoon extra virgin olive oil
4 tablespoons divided unsalted butter
1 small finely chopped yellow onion
8 large whole fresh sage leaves
2 cups or other rice specifically for risotto arborio rice
1 cup white wine
1/2 cup finely grated, plus more for garnish Parmesan cheese
Directions
In a medium saucepan over medium-high heat, add the chicken stock and the pumpkin, bringing to a boil. Cover, reduce the heat to low and simmer for 4 to 6 minutes until the pumpkin is just fork tender. With a slotted spoon, remove the pumpkin to a bowl to reserve. Keep the stock warm, not hot, and covered over very low heat while preparing the rice.
Meanwhile, bring a large saucepan to temperature over medium high heat. When hot, add the olive oil and the sausage. Sauté the sausage until the pieces are nicely browned, 4 to 6 minutes. With a slotted spoon, remove the sausage to a paper towel-lined platter. Pour off and discard any excess fat remaining in the pan.
Return the pan to medium heat and add 3 tablespoons butter. When the butter has melted and its foam subsided, stir in the onion and sage, scraping up any brown bits of sausage from the bottom of the pan. Sauté until the onion is translucent, about 5 to 7 minutes, making sure it does not brown. [Tip: If the onion is cooking too fast, add a tablespoon or two of water, which will slow down the cooking process and it from browning.] Next, add the rice, stirring until it is coated with the butter, 1 to 2 minutes. Add the wine and stir until the liquid has reduced by half, about 2 to 3 minutes. Add a ½ cup of the simmering stock and the reserved pumpkin, stirring until the stock is almost completely absorbed. Add another ½ cup stock and continue cooking, stirring continuously, repeating the process of adding stock when it is almost absorbed. It should take 15 to 18 minutes to cook the risotto.
With the addition of the final ½ cup of stock, add the reserved sausage, the remaining tablespoon butter and the cheese, stirring until well combined. Taste for seasoning, adding salt if needed. Remove the risotto pan from the heat. Serve the risotto immediately in warmed bowls, garnishing the top with a sprinkle of grated cheese. Serves 6 to 8.