Green Chili Corn Muffins
By
Paula Deen
JUMP TO RECIPE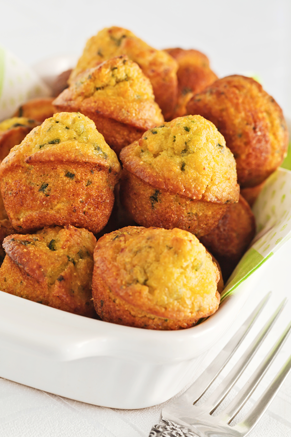 Difficulty: Easy
Prep time: 10 minutes
Cook time: 10 minutes
Servings: 10
Ingredients
1/2 cup canola oil
1 (4oz) can canned, chopped green chilies
1 cup sour cream
1 (8oz) can cream-style corn
1 cup shredded sharp cheddar cheese
2 teaspoons baking powder
1/2 teaspoon salt
1 1/4 cups stone-ground cornmeal
2 lightly beaten eggs
Directions
Preheat the oven to 400 °F. Spray miniature muffin tins with vegetable oil cooking spray.
In a small mixing bowl, combine the cornmeal, salt and baking powder, stirring with a metal spoon. Add the cheese, corn, sour cream and chilies. Stir until lightly combined. Add the oil and eggs and stir until everything is just combined; do not over mix. The batter will be very stiff.
Place about 1/2 tablespoon of batter into each muffin cup. Bake for 18 to 20 minutes. Serve warm. Makes about 4 dozen mini-muffins.