Top Secret Chocolate Cookies
By
Paula Deen
JUMP TO RECIPE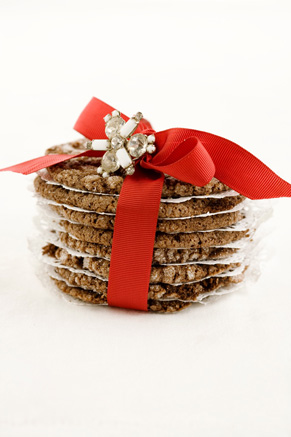 Difficulty: Easy
Prep time: 10 minutes
Cook time: 10 minutes
Servings: 10
Ingredients
2½ sticks unsalted butter, oom temperature
2 cups sugar
2 large eggs
1 tablespoon vanilla extract
¾ cup dutch process cocoa powder
2 cups all purpose flour
1 teaspoon baking soda
½ teaspoon salt
white sanding sugar, for garnish
Directions
In a large bowl, add the butter and sugar and cream together with a hand mixer. Add the eggs and vanilla extract to the creamed mixture and mix until combined. In a medium bowl, mix the cocoa powder, flour, baking soda, and salt. Slowly add the dry ingredients and continue mixing until incorporated.
Roll the dough into 2 logs that are about 2-inches high and 1-foot long. Wrap them in waxed paper and place in the refrigerator for 2 hours.
Preheat oven to 350 °F.
Once thoroughly chilled, slice the cookies into 1/2-inch thick rounds and cover with sanding sugar. Place on a parchment paper lined cookie sheet and bake for 10 minutes.
Remove to a wire rack to cool.