Chicken Potpie
By
Deen Brothers
JUMP TO RECIPE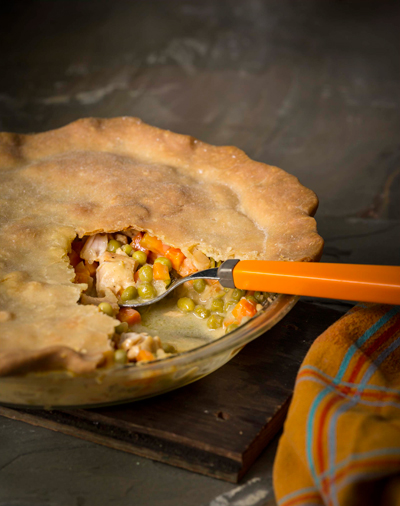 Featured in:
From Mama's Table to Mine
Difficulty: Easy
Servings: 8
Ingredients
1 tablespoon canola oil
1 cup finely chopped onions
1 cup finely chopped carrots
1 1/2 tablespoons all-purpose flour
3/4 cup low-sodium chicken broth
1/2 cup skim milk
1/2 cup low-fat Cheddar cheese
1 1/2 cups cooked and coarsely chopped boneless
1 1/2 cups frozen peas
1/2 teaspoon celery salt
Pastry
1 1/4 cups all-purpose flour
1/4 teaspoon salt
1/4 cup canola oil
3 to 5 tablespoons ice-cold water
Directions
1. Preheat the oven to 375°. Lightly spray a 9-inch pie plate with cooking spray.
2. To make the filling: In a large skillet, heat the oil over medium heat. Add the onions and carrots and cook until softened, about 5 minutes. Add the flour and cook, stirring, for 30 seconds. Slowly whisk in the chicken broth and milk. Simmer until slightly thickened, about 5 minutes. Whisk in the Cheddar until melted, then stir in the chicken, peas and celery salt. Scrape the filling into the prepared pie plate.
3. To make the pastry: In a small bowl, whisk together the flour and salt. Mix in the oil with a fork. Knead in enough water until the crust just holds together. On a lightly floured surface, roll out the dough to a 10-inch circle. Drape the crust over the filling in the pie plate and tuck in the sides. Cut two vents in the top of the crust and bake for about 30 minutes, or until the crust is golden and the filling is bubbling.
Easy Does It:
The secret to a flaky, tender crust is not overworking the dough. Be sure you knead the dough only until the crust just holds together. If you're gonna go to the trouble of making it from scratch, you want to make sure it delivers the goods!