Corn Sticks
By
Paula Deen
JUMP TO RECIPE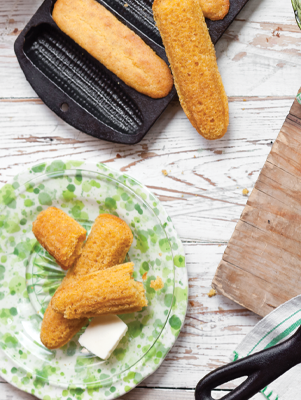 Featured in:
At the Southern Table
Get your copy of At the Southern Table with Paula Deen here.
Difficulty: Easy
Prep time: 10 minutes
Cook time: 10 minutes
Servings: 18
Ingredients
¼ cup plus 2 tablespoons vegetable oil, divided
1½ cups plain yellow cornmeal
¼ cup all-purpose flour
3 tablespoons sugar
1 teaspoon baking soda
½ teaspoon baking powder
½ teaspoon salt
1 cup whole buttermilk
1 large egg
Directions
Preheat oven to 425°. Brush ¼ cup oil into wells of cast-iron corn stick pans, and place pans in oven to preheat.
In a large bowl, whisk together cornmeal, flour, sugar, baking soda, baking powder, and salt. In a small bowl, whisk together buttermilk, egg, and remaining 2 tablespoons oil. Stir buttermilk mixture into cornmeal mixture just until combined. Spoon batter into hot pans, filling wells three-fourths full.
Bake until golden brown, 8 to 10 minutes. Let cool in pan for 5 minutes; serve warm.