Coach Carter's Grilled Chicken and Veggie Platter With Sweet Peach Sauce
By
Coach Carter
JUMP TO RECIPE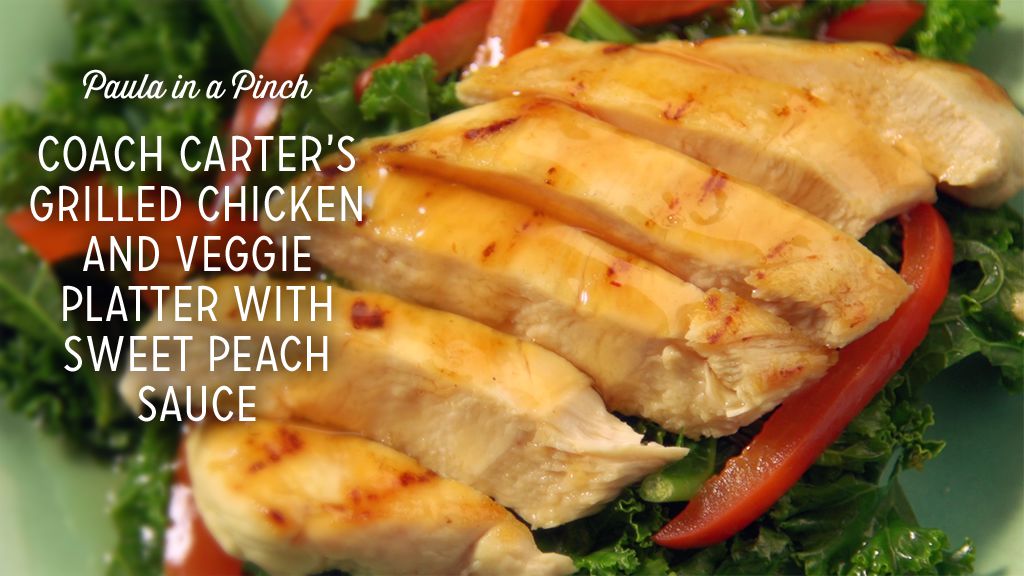 Difficulty: Easy
Prep time: 5 minutes
Cook time: 5 minutes
Servings: 5
Ingredients
3 chicken cutlets
1 sliced yellow bell pepper
1 sliced orange bell pepper
1 bunch sliced lacinato kale
1 tablespoon olive oil
1 cup peach preserves
3 tablespoons butter
1 tablespoon lemon zest
1 tablespoon vegetable oil
2 tablespoons brandy
Directions
Preheat a grill pan over medium-high heat. Season the chicken cutlets with salt and pepper and drizzle with extra-virgin olive oil.
Place the chicken cutlets on the grill and cook for 4 minutes on each side. When finished, slice the chicken into strips.
In a medium skillet over medium-high heat, sauté the peppers and kale in the vegetable oil, about 4 minutes. Season with salt and pepper to taste.
In small saucepot over medium heat, melt butter, then stir in peach preserves, brandy and lemon zest and let simmer for 2 minutes.
Plate the sautéed peppers and kale on a beautiful platter, shingle the sliced chicken on top of the veggies and pour the sweet peach sauce on the chicken.