Chocolate Mousse
By
Paula Deen
JUMP TO RECIPE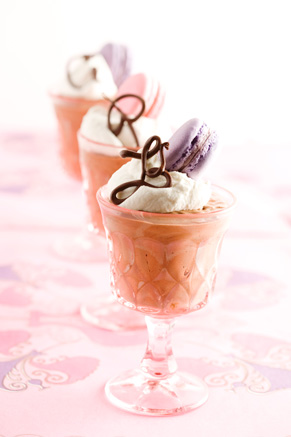 Difficulty: Easy
Prep time: 5 minutes
Cook time: 20 minutes
Servings: 4
Ingredients
6 (4 oz) bars bittersweet chocolate
2/3 cup extra-strong black coffee
4 large at room temperature, separated eggs
1 cup plus 1/2 cup sugar
2 cups heavy cream
whipped cream, for topping
chocolate, shaved for garnish
berries, for garnish
Directions
Break chocolate into smaller pieces and melt on top of a double boiler. When close to being melted add coffee and stir together.
In a separate bowl, beat 3 egg yolks and 1 cup of sugar, mixing well. Add mixture to melted chocolate and cook over heat. Stir well until sugar is dissolved. Remove from heat. Cool.
Using a handheld electric mixer, beat 4 egg whites until they form soft peaks. Fold into chocolate mixture.
Beat heavy cream with the remaining 1/2 cup sugar until soft peaks begin to form. Fold into chocolate mixture.
Serve in a beautiful crystal dish or glass. Garnish with dollops of fresh whipped cream, berries and shaved chocolate.