Bobby's Lighter Frozen Chocolate Mousse Pie
By
Bobby Deen
JUMP TO RECIPE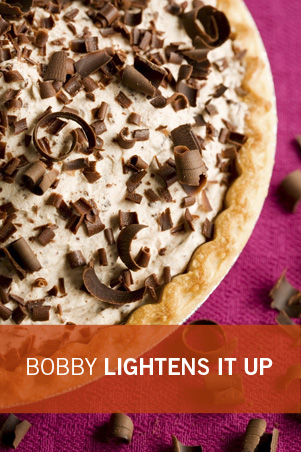 Difficulty: Easy
Prep time: 20 minutes
Cook time: 20 minutes
Servings: 20
Ingredients
1/2 cup milk chocolate chips
1/2 cup semi sweet chocolate chips
1/4 cup low fat milk
2 tablespoons dark corn syrup
2 tablespoons chocolate flavored liqueur
1 teaspoon vanilla extract
2 tablespoons meringue powder
6 tablespoons water
1 1/2 cups thawed fat-free frozen whipped topping
1 (9 inch) pre-baked pie crust
1/2 (1 oz) square grated semisweet chocolate
Directions
Microwave both chocolates and the milk in a microwavable container on High, stirring halfway through cooking time, until melted and smooth, about 1 minute. Stir in the corn syrup, liqueur and vanilla. Let cool completely.
With an electric mixer on high speed, beat the meringue powder and water in a medium bowl until glossy peaks form, 2- 3 minutes. With a rubber spatula, gently fold the beaten meringue and whipped topping into the cooled chocolate mixture until no streaks of white remain. Spoon into the prepared crust; spread evenly. Sprinkle with the grated chocolate. Cover with plastic wrap and freeze until frozen, at least 3 hours.
*Paula Deen Test Kitchen Note: Meringue powder can be found now at most higher end grocery stores or at craft stores in the cake decorating supplies section.