Frozen Chocolate Mousse Pie
By
Paula Deen
JUMP TO RECIPE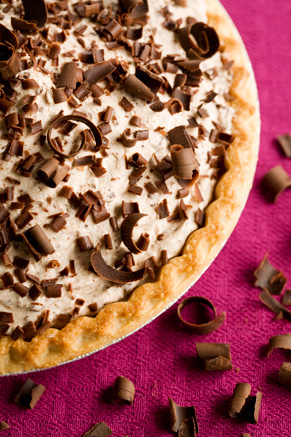 Difficulty: Easy
Prep time: 10 minutes
Cook time: 10 minutes
Servings: 10
Ingredients
2 cups semisweet chocolate chips
1 tablespoon chocolate creme liqueur
1 quart, plus 3 tablespoons heavy cream
1 teaspoon vanilla extract
3 cups powdered sugar
1 premade pie shell
for topping chocolate chips
Directions
Preheat oven to 350 °F.
Prick holes to bottom of pie shell. Bake in oven for 11 minutes or until golden brown. Let cool.
In a medium saucepan over medium-low heat, add chocolate chips, 3 tablespoons heavy cream and chocolate liqueur. Cook until smooth, about 1 minute. Add vanilla extract. Mix and let cool.
In a mixing bowl combine sugar and 1 quart heavy cream. Whip as if you were making whipped cream. Slowly fold the chocolate sauce into the cream.
Next pour the mousse mixture into the pie shells. Add chocolate chips to the top of the pies. Wrap the pie and freeze for a few hours or overnight.