Chocolate Macadamia Cheesecake Bars
By
Paula Deen
JUMP TO RECIPE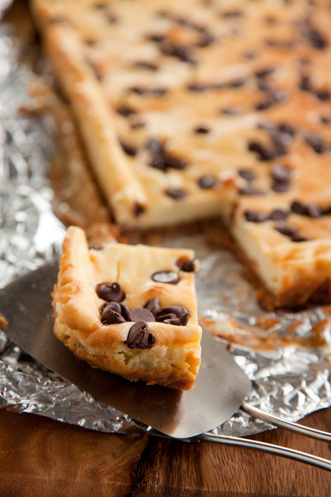 Difficulty: Easy
Prep time: 20 minutes
Cook time: 45 minutes
Servings: 1 1/2 dozen bars
Ingredients
1 3/4 cup vanilla wafer crumbs
1 1/2 cups roasted, salted, finely chopped, and divided macadamia nuts
1/2 cup firmly packed brown sugar
1 stick melted butter
2 (8 oz) packages softened cream cheese
3/4 cup granulated sugar
3 large eggs
3/4 cup sour cream
1/2 cup semisweet chocolate morsels
Directions
Preheat the oven to 300 °F. Line a 13 by 9-inch baking pan with heavy-duty aluminum foil, letting the edges of the foil extend over the sides of the pan.
For the crust: In a small bowl, combine the wafer crumbs, 3/4 cup nuts, brown sugar, and butter. Press evenly into the bottom of the prepared pan. Bake for 8 minutes. Let cool completely on a wire rack.
For the filling: In a large bowl, beat the cream cheese and granulated sugar at medium speed with a mixer until creamy. Add the eggs, 1 at a time, beating well after each addition. Stir in the sour cream. Pour over the crust. Sprinkle with chocolate morsels. Bake until set, 40 minutes. Sprinkle with the remaining 3/4 cup nuts. Let cool completely on a wire rack. Cut into bars to serve. Store in the refrigerator.