Bobby's Lighter White Chocolate Cherry Chunkies
By
Bobby Deen
JUMP TO RECIPE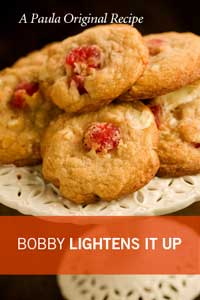 Difficulty: Easy
Prep time: 10 minutes
Cook time: 10 minutes
Servings: 10
Ingredients
1 1/4 cups all purpose flour
1/2 cup rolled oats
1/2 teaspoon baking soda
1/4 teaspoon salt
1/4 cup granulated sugar
1/4 cup packed brown sugar
4 tablespoons softened butter
1 large egg
1 teaspoon vanilla
2 oz cut into 1/4-inch pieces white chocolate
1/4 cup chopped macadamia nuts
3 tablespoons (about 6 cherries per tablespoon), coarsely chopped candied cherries
Directions
Preheat the oven to 375 °F. Spray 2 large baking sheets with nonstick spray.
Combine the flour, oats, baking soda and salt in a medium bowl. In a large bowl, with an electric mixer at medium speed, cream both sugars and butter until light and fluffy, 2-3 minutes. Beat in the egg and vanilla until blended. Slowly beat in the flour mixture until just blended. Stir in the chocolate, nuts and cherries into the dough.
Drop by heaping tablespoons onto the baking sheets 2 inches apart, making a total of 20 cookies. Bake until lightly browned along the edges, 12-15 minutes, rotating the baking sheets halfway through the baking.
Let cool on the baking sheets on racks 2-3 minutes. With a spatula, transfer the cookies to racks to cool completely.