Break the Bank Cookies
By
Paula Deen
JUMP TO RECIPE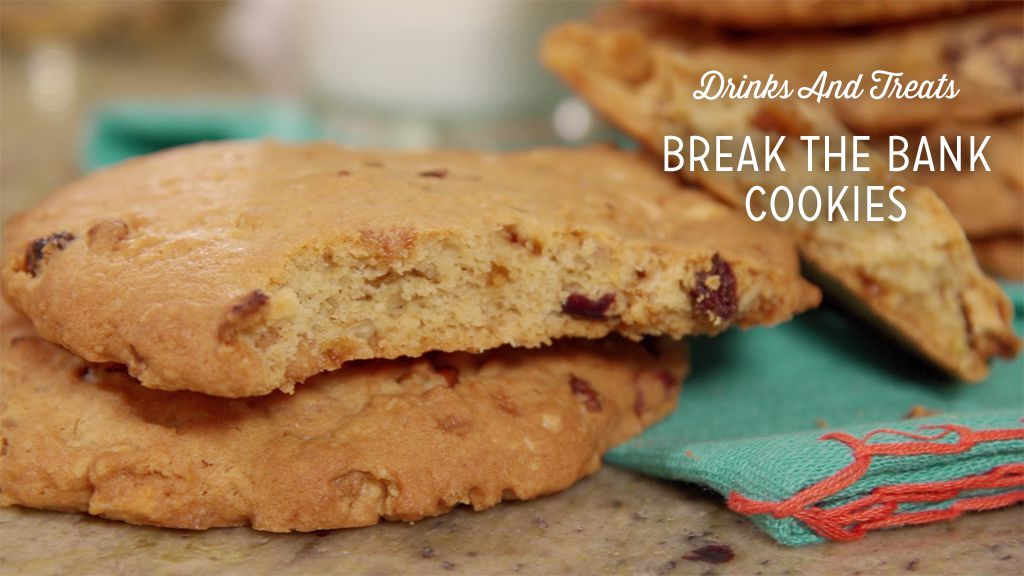 Difficulty: Easy
Prep time: 25 minutes
Cook time: 18 to 20 minutes
Servings: 24
Ingredients
1 cup finely ground old-fashioned oatmeal
2 1/2 sticks butter
1 cup packed light brown sugar
1/2 cup granulated sugar
2 1/2 cups all purpose flour
1 teaspoon baking soda
1 teaspoon salt
2 large room-temperature eggs
2 teaspoons pure vanilla extract
1/2 cup semi sweet chocolate chips
1/2 cup peanut butter chips
1/2 cup chopped toffee candy bars
1/2 cup white chocolate chips
1 cup chopped macadamia nuts
1/2 cup chopped pecans
1/2 cup chopped walnuts
1/2 cup raisins
1 (8 oz bag) (sunflower seeds, pecans, cranberry and walnuts) roughly chopped trail mix
Directions
Preheat oven to 350 °F. Line sheet trays with parchment.
Add the oatmeal to a food processor and blend until it's fine like flour. Transfer to a large bowl.
In a standing mixer outfitted with the paddle attachment, add butter, brown sugar and granulated sugar. Cream together until light and fluffy, about 5 minutes.
Meanwhile, whisk together oatmeal flour, all-purpose flour, baking soda and salt. Reserve.
Once the butter and sugar is creamed together, add the eggs, one at a time, beating well after each addition. Add the vanilla and beat until combined.
Gradually add the flour a cup at a time until incorporated. Turn mixer to stir (lowest setting) and stir in the chocolate chips, white chocolate, peanut butter chips, macadamia nuts and trail mix.
The batter will be very thick and you will need to mix the last of the add-ins by hand. Make sure you mix well so all the add-ins are evenly dispersed through your cookies.
Use a 2-1/2-inch cookie scoop to add 6 scoops of batter to the prepared sheet trays. Push down the tops lightly so they spread out.
Bake cookies 18-20 minutes, rotating halfway through, until golden. Remove to wire racks to cool. Repeat with remaining dough.