Chocolate Cranberry Pecan Oat Cookies
By
Paula Deen
JUMP TO RECIPE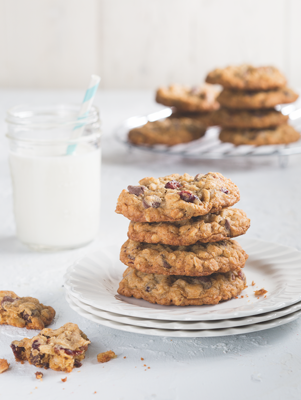 Featured in:
Paula Deen's Southern Baking
Difficulty: Easy
Prep time: 25 minutes
Cook time: 14 minutes
Servings: 24
Ingredients
½ cup plus 3 tablespoons unsalted butter, softened
½ cup granulated sugar
½ cup firmly packed light brown sugar
1 large egg, room temperature
1 teaspoon vanilla extract
1 cup all-purpose flour
½ teaspoon baking soda
½ teaspoon kosher salt
½ teaspoon ground cinnamon
2 cups old-fashioned oats
½ cup semisweet chocolate morsels
½ cup toasted chopped pecans
⅓ cup dried sweetened cranberries
Directions
Preheat oven to 350°. Line baking sheets with parchment paper.
In a large bowl, beat butter and sugars with a mixer at medium speed until fluffy, 3 to 4 minutes, stopping to scrape sides of bowl. Add egg, beating well. Beat in vanilla.
In a medium bowl, whisk together flour, baking soda, salt, and cinnamon. With mixer on low speed, gradually add flour mixture to butter mixture, beating just until combined. Stir in oats and all remaining ingredients. Scoop dough by 2 tablespoonfuls, and roll into balls. Place 2 inches apart on prepared pans, and flatten slightly. Freeze for 15 minutes.
Bake until golden brown, 12 to 14 minutes. Let cool on pans for 5 minutes. Remove from pans, and let cool completely on wire racks. Store in an airtight container for up to 3 days.
Baking Tip: Have some fun with flavor variations when making these cookies. Try swapping chocolate, cranberries, and pecans for white chocolate, cherries, and walnuts.