Three Chocolate Cookies
By
Paula Deen
JUMP TO RECIPE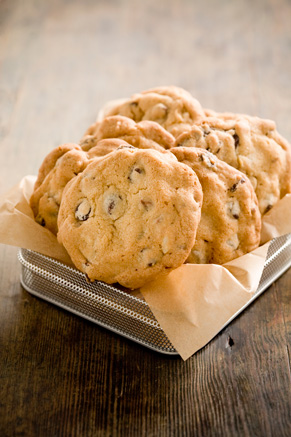 Difficulty: Easy
Prep time: 10 minutes
Cook time: 10 minutes
Servings: 10
Ingredients
1 teaspoon salt
2 teaspoons baking soda
3 3/4 cups all purpose flour
1 teaspoon vanilla extract
3 large eggs
1 3/4 cups firmly packed brown sugar
3/4 cup sugar
1/2 cup vegetable shortening
1 cup softened butter
1 (12 oz) package semisweet chocolate morsels
1 cup milk chocolate morsels
3 (1 oz) squares chopped bittersweet chocolate
1 cup almond brickle chips
Directions
Preheat oven to 375 °F. Lightly grease baking sheets.
With an electric mixer, beat butter and shortening at medium speed until creamy; gradually add sugars, beating until fluffy. Add eggs and vanilla, beating well.
In a small bowl, combine flour, baking soda and salt; gradually add to butter mixture, beating until blended. Stir in chocolate morsels and almond brickle chips. Drop cookies by 1/4 cupfuls about 3-inches apart onto prepared baking sheets. Bake for 11 to 12 minutes, or until lightly browned. Let cool for 2 minutes on baking sheets. Remove to wire racks to cool.