Luscious Chocolate Cheesecake
By
Deen Brothers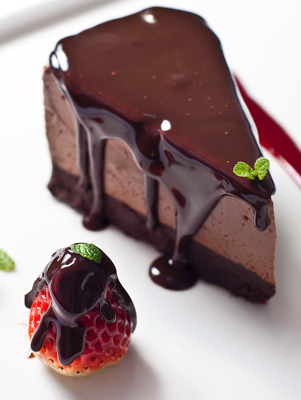 Ingredients
1 9-ounce box chocolate wafer cookies
6 tablespoons unsalted butter
1 1/2 cups heavy cream
1 tablespoon unsweetened cocoa powder
1 11 1/2-ounce bag bittersweet chocolate chips
2 8-ounce packages cream cheese
3/4 cup sugar
1 tablespoon cornstarch
1 cup sour cream
2 teaspoons vanilla
3 large eggs
1/4 cup heavy cream
2 ounces bittersweet chocolate
1 quart strawberries
Directions
Preheat oven to 350°F. For the crust, grease a 9-inch springform pan and wrap the outside with a double layer of foil. In a food processor, finely grind the cookies. Add the melted butter and process until blended. Press the mixture into the bottom and partly up the sides of the pan. Place pan in the refrigerator.
For the filling, in a saucepan, combine 1 1/2 cups cream and the cocoa. Cook and stir over medium heat until the cocoa dissolves. Reduce heat and whisk in chocolate chips until smooth. Set aside and let cool.
In a large bowl, beat together the cream cheese and sugar until smooth. Beat in the cornstarch. Beat in the sour cream and vanilla. Add the eggs, one at a time, beating after each addition. Fold 1 cup of the cream cheese mixture into the chocolate mixture to lighten it, then scrape the chocolate mixture into the cream cheese mixture. Whisk until smooth.
Pour the filling into the springform pan. Place the springform pan inside a large baking pan. Fill the baking pan with 1 inch of hot water. Bake the cake about 1 hour or until just set and slightly puffed. Let cake cool in the baking pan on a wire rack. Cover the cake with plastic wrap and chill overnight.
For the glaze, in a small saucepan, bring 1/4 cup cream to a boil. Reduce the heat and whisk in the chopped chocolate until combined. Let cool. Use a knife to loosen the cake from the pan, then remove the sides of the pan. Arrange the strawberries on top of the cake and drizzle with the glaze.