Chocolate-Cherries Alaska Bomb
By
Paula Deen
JUMP TO RECIPE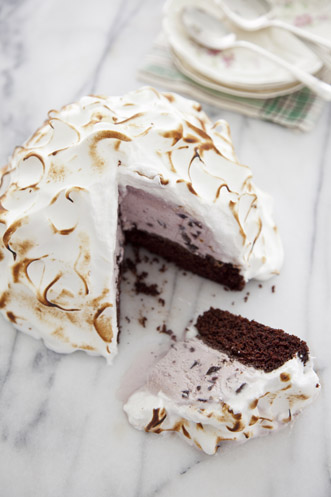 Difficulty: Hard
Prep time: 35 minutes
Cook time: 35 minutes
Servings: 35
Ingredients
2 pints cherry ice cream
1 (8 in) round (or bake a brownie mix in an 8-in round pan) chocolate chip walnut brownie
4 large egg whites
1/4 teaspoon cream of tartar
1/3 cup sugar
1/4 cup brandy
Directions
Line a small, round bottomed, 8-inch stainless steel bowl with plastic wrap, letting it hang over the sides. Spoon the ice cream into the prepared bowl, pressing it down as you go. Smooth the surface of the ice cream with a rubber spatula. Top the ice cream with the brownie round, bottom of the brownie side up. Bring the plastic wrap up and over the brownie, wrapping it all up tightly. Freeze for 4 hours or overnight until solid.
In a large mixing bowl, beat egg whites with an electric mixer until foamy. Add the cream of tartar and beat until soft peaks form. Gradually beat in the sugar until the meringue is stiff and glossy. Transfer the meringue to a large piping bag fitted with a large star tip.
Preheat oven to 450º
Remove bomb from freezer, unwrap the bottom, and turn out onto a metal or other heatproof serving dish. Peel away the plastic wrap from the ice cream. Pipe stars of meringue all over the bomb, covering it completely and sealing it all the way to the edge of the dish.
Bake the bomb in the oven for 2 to 3 minutes until it begins to brown. Remove from the oven and gently pour the brandy all over the bomb. Ignite the brandy with a long kitchen match and let burn until the flame subsides.
When the flames die down, cut into wedges and serve immediately.