Homemade Cherry-Chocolate Chip Ice Cream
By
Deen Brothers
JUMP TO RECIPE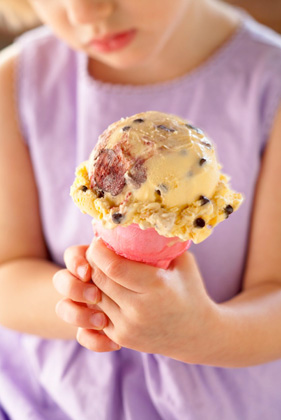 Featured in:
The Deen Bros. Y'all Come Eat
Difficulty: Easy
Servings: About 1 Quart
Ingredients
1 12-ounce package (2 1/2 cups) frozen dark sweet cherries
1/2 cup sugar
6 large egg yolks
Pinch salt
2 cups heavy cream
3/4 cup whole milk
4 ounces miniature semisweet chocolate chips
1 tablespoon vanilla
1 tablespoon freshly squeezed lemon juice
Directions
In a small saucepan, stir together the cherries and 3 tablespoons of the sugar. Simmer over medium heat about 10 minutes or until the sugar dissolves and the sauce thickens slightly. Let cool. Transfer to a food processor and pulse until chopped but still chunky; set aside.
In a large bowl, whisk together the remaining 5 tablespoons sugar, the egg yolks, and the salt. In a large saucepan, bring the cream and milk to a simmer. Whisking constantly, slowly pour the hot milk mixture into the egg mixture until combined; return the combined mixture to the saucepan. Cook over low heat for 3 to 5 minutes or until the custard has thickened enough to coat the back of the spoon, stirring constantly. Immediately strain the custard into a bowl. Set the bowl in a larger bowl filled with ice water to cool, stirring occasionally.
Stir the cherries, chocolate chips, vanilla, and lemon juice into the cooled custard. Freeze in an ice cream maker according to the manufacturer's instructions.