Southern Corn Casserole
By
Paula Deen
JUMP TO RECIPE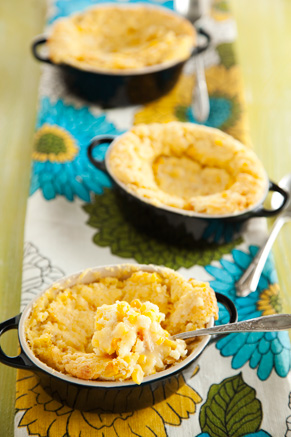 This southern corn casserole recipe from Paula Deen is a simple holiday side dish favorite. Ingredients include whole kernels, cream-style corn and a box of corn
Show more
This southern corn casserole recipe from Paula Deen is a simple holiday side dish favorite. Ingredients include whole kernels, cream-style corn and a box of corn muffin mix.
Difficulty: Easy
Prep time: 10 minutes
Cook time: 10 minutes
Servings: 10
Ingredients
1 (15 1/4 oz) can drained whole kernel corn
1 (14 3/4 oz) can cream-style corn
1 cup sour cream
1/2 cup (1 stick) melted butter
1 (8 oz) package corn muffin mix
medium shredded cheddar cheese
Directions
In a large bowl, stir together the two cans of corn, corn muffin mix, sour cream and butter. Pour into a greased casserole. Bake at 350 °F for 40 to 45 minutes, or until golden brown. Top with generous amount of cheddar cheese and return to oven for another 5 minutes until cheese is melted.