Shrimp Gumbo Casserole
By
Paula Deen
JUMP TO RECIPE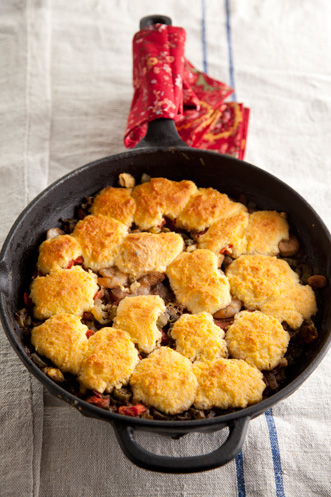 Difficulty: Easy
Prep time: 15 minutes
Cook time: 15 minutes
Servings: 15
Ingredients
1 cup finely chopped onion
1 cup finely chopped celery
2 tablespoons olive oil
1 (14.5 oz) can diced tomatoes
2 bay leaves
1/2 teaspoon dried thyme
1 (10 oz) package frozen cut okra
1 teaspoon Paula Deen's Lemon-Pepper Seasoning
1 1/2 teaspoons Paula Deen's House Seasoning
1 cup or fish stock chicken stock
2 cups cleaned, peeled, and deveined shrimp
1 beaten egg
1/3 cup milk
1 (12 oz) package corn muffin mix
Directions
In an iron skillet saute onion and celery in oil. Add bay leaves, thyme, lemon-pepper seasoning and House Seasoning. Pour in stock and add tomatoes and okra. Cover pot and gently simmer for 30 minutes. Remove from heat and stir in shrimp.
To prepare the topping, preheat oven to 400 °F. Mix together egg and milk. In separate bowl, place muffin mix and add egg-milk mixture. Mix until just well blended. Drop by tablespoonfuls on top of hot shrimp mixture, leaving the center uncovered. Bake 15-20 minutes.
Cook's Note: This Southern dish usually is prepared and served in an iron skillet, but may be cooked in a frying pan with an ovenproof handle.