Bubba's Shrimp Gumbo
By
Bubba Hiers
JUMP TO RECIPE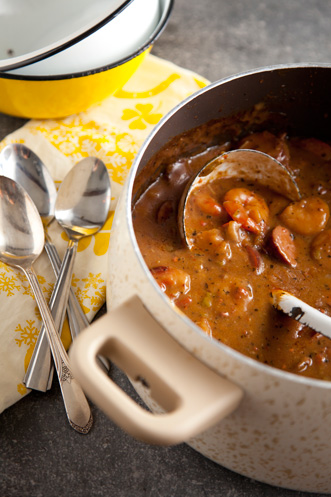 Difficulty: Easy
Prep time: 20 minutes
Cook time: 1 hour 30 minutes
Servings: 8
Ingredients
1 cup plus 1 tablespoon butter
3/4 cup all purpose flour
1/2 chopped yellow onion
1/4 cup chopped celery
1/4 cup chopped green bell pepper
2 cloves minced garlic
1 cup sliced fresh okra
3 cups shrimp stock
2 cups bottled clam juice
1 cup canned diced tomatoes with juice
3 bay leaves
1 tablespoon dried parsley flakes
1 tablespoon Cajun seasoning
1 teaspoon dried thyme leaves
1 teaspoon dried basil leaves
1/2 teaspoon black pepper
1 1/2 cups sliced diagonally cooked smoked sausage
2 lbs cleaned and deveined shrimp
cooked for serving white rice
Directions
In a large heavy saucepan, over low heat, melt 1 cup of the butter. Add the flour, and cook on low heat until the roux is dark brown; about 30 to 45 minutes, stirring constantly. *Cook's Note: Brown does not mean burnt; if you burn the roux you have to throw it out and start over again.
Add the onions, celery, peppers and garlic and saute until translucent.
Mix in the okra and the remaining ingredients, including the remaining 1 tablespoon of butter, and simmer over medium-low heat until thick, about 1 hour. Before serving, remove the bay leaves. Transfer to a serving bowl and serve over white rice, if desired.