Bubba's Shrimp & Grits
By
Bubba Hiers
JUMP TO RECIPE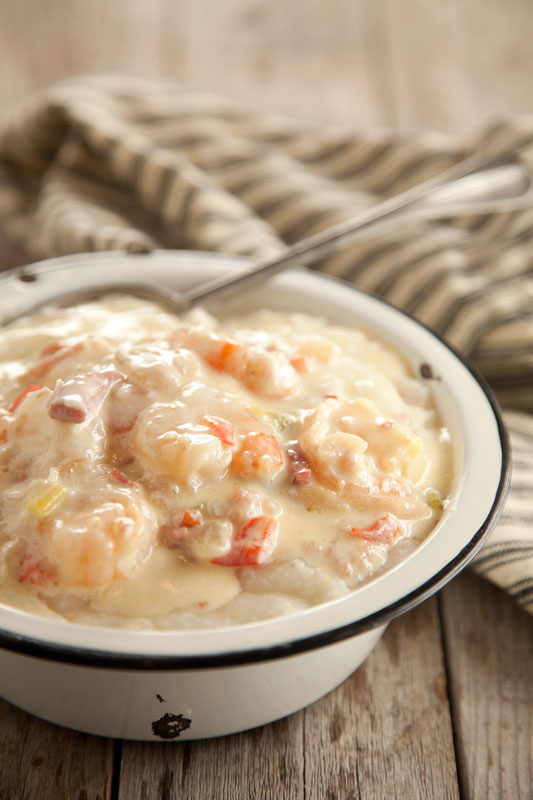 Difficulty: Easy
Prep time: 45 minutes
Cook time: 30 minutes
Servings: 4-6
Ingredients
4 tablespoons butter
2 teaspoons plus 1/2 teaspoon, divided salt
2 cups quick grits
1/4 cup chopped bacon
1/2 cup diced onion
2 tablespoons red bell pepper
2 tablespoons green bell pepper
1/4 cup diced leek
1/2 teaspoon minced garlic
36 medium peeled, tails removed, and deveined shrimp
3/4 cup flour
1/2 cup dry white wine
1 quart heavy cream
1/2 teaspoon pepper
1/2 teaspoon garlic powder
6 cups water
Directions
In a medium saucepan on medium-high heat, bring 6 cups water, the butter, and 2 teaspoons salt to a boil. Slowly whisk in the grits. Continue whisking occasionally for about 5 minutes, until the grits are thick and tender. Remove from the heat and keep warm.
For the gravy, saute the bacon in a large heavy saucepan over medium-high heat until the fat is rendered. Stir in the onion, peppers, leek and garlic and cook until soft. Add the shrimp and stir to combine. Sprinkle in the flour, and stir, making sure all of the flour is well incorporated. Add the wine and cream, stirring well until the sauce has thickened. In a small bottle or bowl, mix the 1/2 teaspoon salt, pepper and garlic powder and season the gravy to taste. Serve the shrimp gravy over grits.
Tip: For creamier grits, add a small amount of heavy cream.