Chocolate Almond Brickle
By
Paula Deen
JUMP TO RECIPE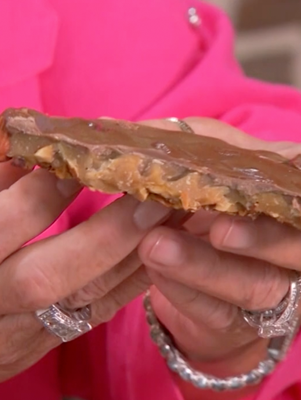 Difficulty: Easy
Prep time: 45 minutes
Cook time: 15 minutes
Servings: 4 to 6
Ingredients
2 1/2 cups toasted and coarsely chopped, divided almonds
1 cup (2 sticks) butter
1 1/2 cups packed brown sugar
1 3/4 cups (from 11.55-ounce package) milk chocolate morsels
Directions
Sprinkle 1 1/4 cup nuts over the bottom of a well-greased 13 by 9-inch baking pan.
Melt the butter in a medium, heavy-duty saucepan over medium heat. Stir in the sugar. Bring to a boil, stirring constantly, until the mixture reaches 280 degrees F on a candy thermometer, about 7 minutes.
Pour the hot mixture over the nuts; let stand for 5 minutes. Sprinkle with morsels. Let stand until morsels melt and become shiny and soft, about 5 minutes. Spread evenly.
* Refrigerate for about 20 minutes. Break into bite-size pieces.
* A viewer, who may not be a professional cook, provided this recipe. The Food Network Kitchens chefs have not tested this recipe and therefore, we cannot make representation as to the results.