Chicken Madeira
By
Paula Deen
JUMP TO RECIPE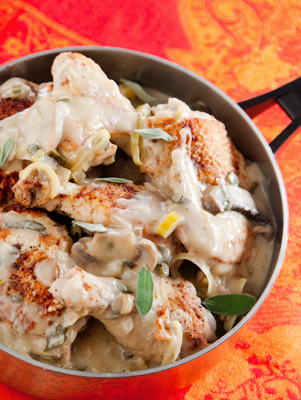 Difficulty: Easy
Prep time: 20 minutes
Cook time: 25 minutes
Servings: 4 servings
Ingredients
1/2 cup heavy cream
1/2 cup thinly sliced green onion
8 tablespoons unsalted butter
1 weighing no more than 2 1/2-"to-3 pounds, cut up as for frying chicken
1 cup about 5 medium shallots or 1 onion minced shallots or yellow onion
8 ounces wiped clean with a dry cloth and thickly sliced fresh brown (crimini) mushrooms
1 cup thinly sliced leeks
2 tablespoons chopped fresh sage
1 cup medium dry (sercial) madeira
1 cup chicken broth
1 tablespoon all purpose flour
Directions
Warm 6 tablespoons of butter over medium heat in a deep, heavy-bottomed, lidded skillet that will hold the chicken in one layer. Season the chicken well with salt and pepper and when the butter is hot, add it to the pan. Sauté, turning frequently, until browned on all sides, about 8 minutes, and remove it to a warm platter.
Add the shallots and saute, tossing frequently, until golden, about 5 minutes. Add the mushrooms and saute until they are beginning to color, about 2 minutes. Add the leeks and sage and saute until fragrant.
Add the Madeira, stirring and scraping the bottom of the pan, and bring it to a boil. Add the broth, let it come back to a boil, and return the chicken to the pan. Reduce the heat to a slow simmer and cook gently until the chicken is tender, about 20 minutes longer.
Remove the chicken to a warm platter. Raise the heat to medium high, add the cream, and cook, stirring constantly, until lightly reduced. Knead the flour into the remaining butter and add it in bits, stirring constantly. Simmer until thickened, about 4 minutes longer, and stir in the green onion. Turn off the heat, pour the sauce over the chicken, and serve immediately.