Deen Bros. BBQ Chicken
By
Deen Brothers
JUMP TO RECIPE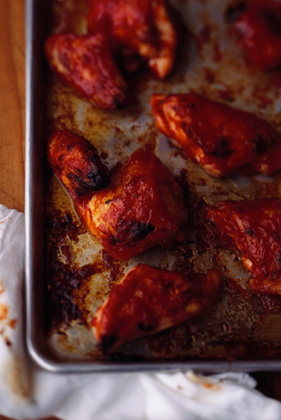 Featured in:
The Deen Bros. Recipes from the Road
Difficulty: Easy
Prep time: 5 minutes
Cook time: 45 minutes
Servings: 4
Ingredients
1/4 teaspoon cayenne pepper
1/2 teaspoon dry mustard powder
1/4 teaspoon liquid smoke
1 teaspoon Worcestershire sauce
2 tablespoon orange juice
1/4 cup dark brown sugar, packed
1 cup ketchup
1 (3 1/2-pound) chicken
Directions
Preheat oven to 375 degrees F or prepare a grill (brush the grill grate lightly with oil).
In a large bowl, stir together all ingredients except the chicken. Reserve 1/3 cup of the barbeque sauce; set aside. Add the chicken to the remaining sauce in the bowl, turning to coat.
Arrange the coated chicken in a roasting pan or on the grill. Cook (covered, if grilling) for 40 to 45 minutes or until cooked through, basting with the reserved 1/3-cup sauce after 20 minutes.