Jamie's Chicken Salad Sandwich
By
Jamie Deen
JUMP TO RECIPE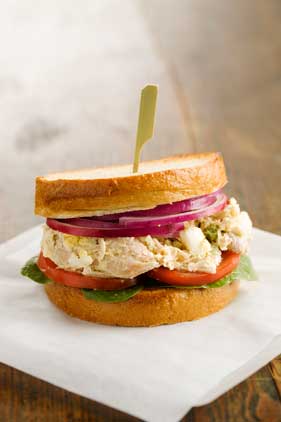 Featured in:
The Lady and Sons Savannah Country Cookbook
Difficulty: Easy
Prep time: 25 min
Cook time: 60 minutes
Servings: 6 servings
Ingredients
1/4 teaspoon pepper
1 teaspoon Paula Deen Lemon Pepper Seasoning
1/2 cup mayonnaise
2 teaspoons Paula Deen Silly Salt
1 cup celery, chopped
4 hard-boiled eggs, diced
2 celery stalks
2-3 tablespoons chicken stock
1 onion
salt
1 three-lb chicken
1 loaf of bread
1 purple onion
1 red tomato
1 bundle of spinach
Directions
First, using a medium sized stock pot, boil your eggs with salt. Using a large stock pot, place the chicken along with the salt, pepper, onion, and celery stalks. Boil chicken until well done and reserve stock. Remove chicken from pot, cool, and remove skin and bones. Dice the chicken and in a large bowl, combine with the chopped celery, eggs, a spoon full of stock, and remaining ingredients and mix well. Slice the bread, onions, and tomatoes. Layer the onions, tomatoes, spinach, and chicken salad between two slices of bread and serve.