Chicken Divan
By
Paula Deen
JUMP TO RECIPE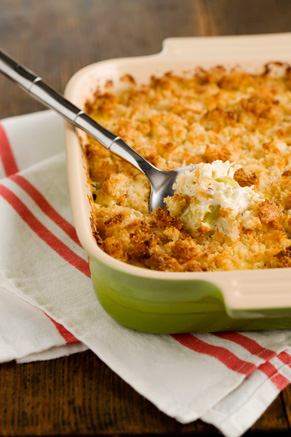 Difficulty: Easy
Prep time: 10 minutes
Cook time: 45 minutes
Servings: 6-8
Ingredients
2 (10 oz) packages chopped frozen broccoli
6 cups cooked and shredded chicken
2 (10 3/4 oz) cans condensed cream of mushroom soup
1 cup mayonnaise
1 cup sour cream
1 cup grated sharp cheddar cheese
1 tablespoon fresh lemon juice
1 teaspoon curry powder
1/2 cup dry white wine
1/2 cup freshly grated Parmesan cheese
1/2 cup soft breadcrumbs
2 tablespoons melted butter
to taste salt and freshly ground black pepper
Directions
Preheat oven to 350 °F.
Remove the outer wrappers from the boxes of broccoli. Open one end of each box. Microwave on full power for 2 minutes, until thawed. Drain the broccoli and put into a 11X7 casserole dish that has been prepared with a non stick cooking spray. Top with shredded chicken.
In a medium bowl, combine the soup, mayonnaise, sour cream, cheddar cheese, lemon juice, curry powder, salt and pepper to taste, and wine. Whisk together to make a sauce. Pour the sauce over the broccoli and chicken. Mix well with a spatula.
Pat down evenly and smooth with a spatula. In a small mixing bowl, stir together the Parmesan cheese, bread crumbs and butter and sprinkle over the top.
Bake for about 30-45 minutes.
Cook's Note: Try topping with cheddar or gruyere cheese.