Cheesy Broccoli Bake
By
Paula Deen
JUMP TO RECIPE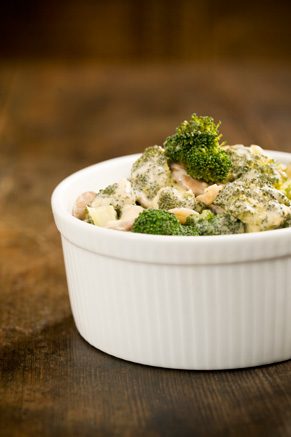 Difficulty: Easy
Prep time: 10 minutes
Cook time: 40 minutes
Servings: 8-10
Ingredients
1/2 lb softened processed cheese
1 (10 3/4 oz) can condensed cream of mushroom soup
1 (8 oz) can sliced water chestnuts
2 tablespoons butter
1/4 cup chopped onion
1/4 lb sliced fresh mushrooms
1/4 cup chopped celery
2 lbs trimmed and cut up fresh broccoli
1/2 teaspoon garlic salt
1/4 teaspoon pepper
1 cup grated cheddar cheese
Directions
Preheat oven to 350 °F.
Steam broccoli for 10 minutes. In the meantime, sauté celery, mushrooms, and onion in butter for 10 minutes; drain.
Combine broccoli, sauté mixture and water chestnuts. Heat soup and softened cheese product in saucepan over low heat until cheese melts. Pour over broccoli mixture. Add garlic salt and pepper and combine.
Place in greased casserole dish. Bake for 20-25 minutes. Sprinkle top with grated cheddar cheese the last 5 minutes of baking.