Corn Bread Casserole with Fresh Corn and Green Onions
By
Deen Brothers
JUMP TO RECIPE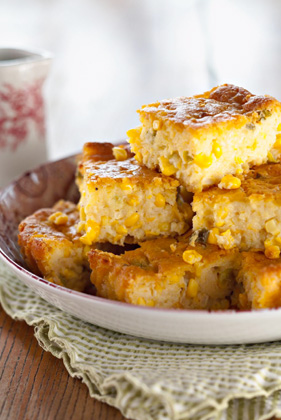 Featured in:
The Deen Bros. Y'all Come Eat
Difficulty: Easy
Servings: 6 to 8
Ingredients
1/2 cup 1 stick unsalted butter
1 cup fresh corn kernels from 2 ears of corn
1 15-ounce can cream-style corn
1 cup sour cream
1 8-ounce package corn muffin mix
6 tablespoons thinly sliced green onions
1/4 teaspoon freshly ground black pepper
Pinch salt
Directions
Preheat oven to 350¡F. Butter a 9-inch square baking pan; set aside.
In a large bowl, stir together the 1/2 cup melted butter, the fresh corn, cream-style corn, sour cream, muffin mix, green onions, pepper, and salt. Pour batter into the prepared pan. Bake for 60 to 75 minutes or until a toothpick inserted in the center comes out clean. Let stand for 5 minutes before serving.