Cheese Cats, Bats, and Jack-O-Lanterns
By
Paula Deen
JUMP TO RECIPE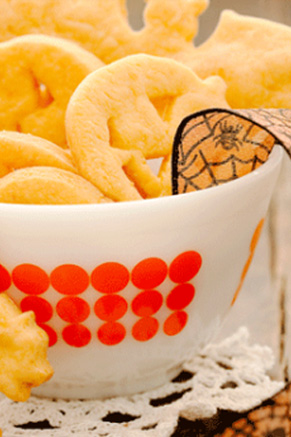 Difficulty: Easy
Prep time: 45 minutes
Cook time: 16 to 18 minutes
Servings: 10 dozen
Ingredients
3/4 lb (12 oz) well-aged, grated extra sharp cheddar cheese
1/4 lb (4 oz) finely grated Parmigiano-Reggiano cheese
1/4 lb (1/2 cup) softened unsalted butter
1/2 teaspoon salt
1 generous teaspoon or more, to taste cayanne pepper
10 oz (about 2 cups) all purpose flour
Directions
In a food processor fitted with a steel blade or with a stand mixer, cream both cheeses with the butter until fluffy and smooth.
Whisk together the cayenne, salt and flour in a separate bowl. Add it all to the processor or in batches to the mixer and work into a smooth dough. Gather into a ball, wrap well in plastic wrap, and chill 30 minutes. Don't let it chill hard. If you make it ahead, soften at room temperature for 30 minutes.
Position a rack in the center of the oven and preheat to 325 °F. Roll out the dough on a lightly flour a work surface about 1/8-inch thick and cut into shapes with cookie cutters. If you don't have a jack-o™-lantern cutter, use a pumpkin cutter and cut out a face with a sharp paring knife dipped in flour.
Bake 16 to 18 minutes, being careful not to let them brown. The bottoms should be golden but the tops and sides should not color. Cool on wire racks. Store in airtight tins.