Lighter Caramel Apple Cheesecake Bars
By
Deen Brothers
JUMP TO RECIPE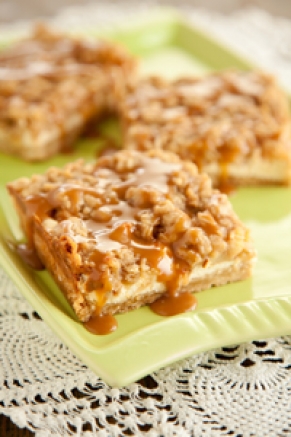 Difficulty: Medium
Prep time: 20 minutes
Cook time: 20 minutes
Servings: 20
Ingredients
2 1/2 cup all purpose flour
1/2 cup packed light brown sugar
3/4 teaspoon salt
1/2 cup (1 stick) softened unsalted butter
2 (8 oz) packages at room temperature fat free cream cheese
1/3 cup granulated sugar
1 large egg
1 large egg white
1 teaspoon vanilla extract
2 cored and finely chopped Granny Smith apples
1/2 cup old-fashioned rolled oats
1/4 cup packed brown sugar
2 tablespoons canola oil
3/4 teaspoon ground cinnamon
pinch nutmeg
1/4 cup fat-free caramel sauce
Directions
Preheat the oven to 350 °F. Line a 9 x 13-inch baking pan with foil, allowing the foil to extend over the rim of the pan by 2 inches. Spray the foil with nonstick spray.
Pulse 2 cups flour, light brown sugar, and 1/2 teaspoon salt in a food processor until combined. Add the butter and pulse until crumbly. Transfer the mixture to the baking pan, pressing firmly to form an even layer. Bake until the crust is set, about 15 minutes. Transfer to a rack.
Meanwhile, with an electric mixer on medium speed, beat the cream cheese in a large bowl until smooth. Gradually beat in the sugar until blended. Beat in the egg, egg white, and vanilla until combined. Pour the filling evenly over the warm crust. Sprinkle the chopped apples evenly over the filling.
To make the topping, using a fork, stir together 1/2 cup flour, oats, brown sugar, oil, cinnamon, 1/4 teaspoon salt, and nutmeg in a small bowl until crumbly. Sprinkle evenly over the chopped apples. Bake until the filling is set and the topping is lightly browned, about 25 minutes. Let cool completely in the pan on a rack. Drizzle with the caramel sauce. Refrigerate at least 1 hour or up to 8 hours. Lift out using the foil as handles. Cut into 24 bars.