Butterflied Chicken with Roasted Root Vegetables and Pan Gravy
By
Deen Brothers
JUMP TO RECIPE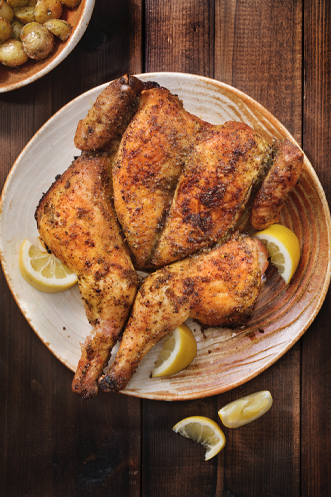 Difficulty: Medium
Prep time: 40 min
Cook time: 1 hour 20 min
Servings: 3 to 4
Ingredients
1 (3 1/2 to 4 pounds) chicken
2 teaspoons chopped fresh rosemary
2 teaspoons fennel seeds
Kosher salt and freshly ground black pepper
4 tablespoons olive oil
5 fingerling potatoes
2 large carrot
1 large shallot
1 cup dry white wine
1 cup chicken stock
1 tablespoon butter
Chopped fresh parsley
Directions
Take the chicken out of the refrigerator and remove the innards from the cavity. Pat dry with paper towels. Let stand at room temperature for about 1 hour.
Adjust the rack to the center of the oven and preheat to 350 degrees F.
Use kitchen shears to cut out the backbone of the chicken. You can do this with a heavy chef's knife, but most people find it easiest with the scissors. Reserve the backbone for stock later.
Lay your chicken open like a book on your work surface, skin-side up. Flatten the chicken with your hands with firm pressure; you should hear a cracking noise. Sprinkle the chicken with the rosemary and fennel seeds, and liberally sprinkle with salt and pepper.
Heat a 12-inch cast-iron skillet over medium-high heat. Once hot, add 2 tablespoons olive oil to heat. Add the chicken, skin-side down, and sear until golden brown, about 5 minutes.
While the chicken is searing, add the potatoes, carrots and shallot to a bowl along with the remaining 2 tablespoons olive oil. Season with salt and pepper and toss well, making sure that all the vegetables are coated well with the oil. Flip the chicken and add the vegetables to the skillet.
Roast the chicken until an instant-read thermometer inserted into the thickest part of the thigh registers 165 degrees F, about 1 hour 10 minutes. Remove the chicken to a cutting board to rest for 15 minutes before carving. Use a slotted spoon to remove the vegetables to a platter and cover loosely with foil to keep warm.
Meanwhile, place the skillet over a burner and set to medium heat. Add the white wine and use a wooden spoon to scrape up the browned bits on the bottom of the pan. Stir in chicken broth. Reduce by half, or until the gravy coats the back of a spoon. Swirl in the butter at the end of simmering for a richer taste and glossiness.
Carve the chicken into pieces and serve with the vegetables and the gravy. Sprinkle the vegetables with additional fresh chopped parsley if using.
Cook's Note: Crush the fennel seeds under the blade of your knife to open up the flavor.