Blythe's Turkey Roulade
By
Blythe Beck
JUMP TO RECIPE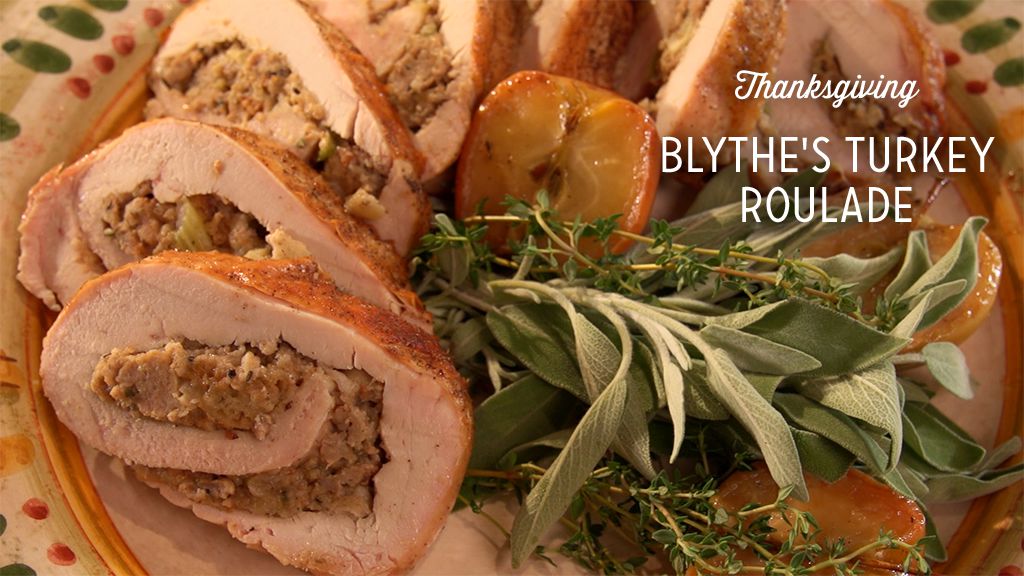 Difficulty: Medium
Prep time: 1 hour
Cook time: 1 hour 15 minutes
Servings: 8-10
Ingredients
1 medium diced onion
4 tablespoons plus 3 tablespoons melted divided unsalted butter
1 peeled and diced apple
1/2 lb bulk pork sausage
1 teaspoon brown sugar
1 teaspoon cinnamon
1 teaspoon thyme
1 teaspoon sage
1/4 cup bourbon
3 cups (homemade, if possible, preferably made from stale bread) breadcrumbs
1 1/2 cups chicken stock
1 extra-large beaten egg
to taste kosher salt
freshly ground, to taste black pepper
1/2 large deboned and butterflied turkey breast
1 stalk diced into 1/2-inch pieces celery
Directions
Preheat oven to 400 °F.
In a large skillet over medium heat, melt butter. Add the sausage, crumbling it into small bits with a wooden spoon and sauté, stirring frequently, for 10 minutes, until cooked and browned.
Add the onions, celery and apples and sauté until softened, about 5 minutes. Add the cinnamon, brown sugar, thyme and sage.
Deglaze with bourbon: scrape up the brown bits on the pan with a wooden spoon. Remove from heat and let cool.
Place the breadcrumbs in a large bowl. Add the sausage mixture, chicken stock, egg, 1 teaspoon salt and 1/2 teaspoon pepper and stir well. (The stuffing may be prepared ahead and stored in the refrigerator overnight.)
Place a baking rack on a sheet pan.
Lay the butterflied turkey breast skin side down on a cutting board. Season the meat with salt and pepper.
Spread the stuffing in a 1/2-inch-thick layer over the meat, leaving a half-inch border on all sides. Don't mound the stuffing or the turkey will be difficult to roll. (Place the leftover stuffing in a buttered gratin dish and bake for the last 45 minutes of roasting alongside the turkey.)
Starting at one end, roll the turkey like a jellyroll and tuck in any stuffing that tries to escape on the sides. Once rolled, tie the roast firmly with kitchen twine every 2 inches to make a compact cylinder.
Place the stuffed turkey breast seam side down on rack placed on a sheet tray. Brush with the melted butter, sprinkle generously with salt and pepper, and roast for 20 minutes at 400 °F. Turn down the oven to 350 °F, then cook for about 40 minutes longer.
Cover the turkey with aluminum foil and allow it to rest at room temperature for 15 minutes. Carve 1/2-inch thick slices and serve warm with the extra stuffing.