Blythe's Sausage-Stuffed Game Hens
By
Blythe Beck
JUMP TO RECIPE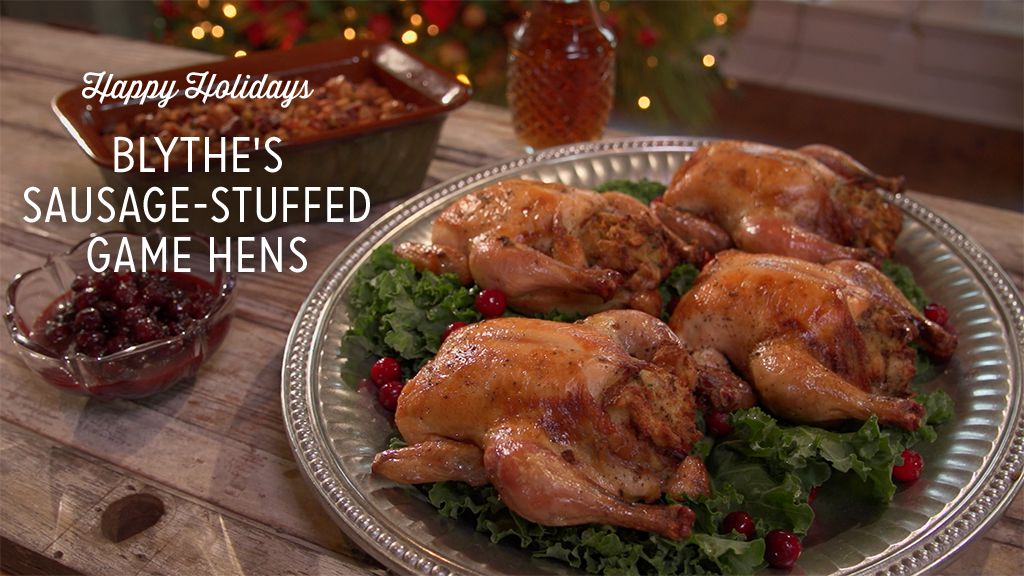 Difficulty: Medium
Prep time: 20 minutes
Cook time: 1 hour 5 minutes
Servings: 4
Ingredients
1 cup diced andouille sausage
1/4 cup diced onion
1/4 cup diced carrot
1/4 cup diced celery
1 cup peeled and diced apples
2 teaspoons cinnamon
2 tablespoons brown sugar
2 oz brandy
1 loaf toasted and diced French bread
1 stick plus 1 tablespoon, divided unsalted butter
2 cups chicken stock
3 eggs
1 teaspoon chopped flat leaf parsley
1 teaspoon chopped fresh thyme
1 teaspoon chopped fresh sage
4 Cornish game hens

Get the recipe here: Blythe's Cranberry Jam

cranberry jam
Directions
Preheat oven to 350 °F.
In a large pan, and 1 tablespoon of butter and sauté Andouille. Add in onion, celery, carrots, fold in apples and add cinnamon. Fold in brown sugar, season with salt and deglaze with bourbon. Set aside.
In a large bowl, combine bread, butter, chicken stock, eggs, herbs, and fold in vegetable mixture. Season inside and outside of birds and place stuffing in cavity of birds. Rub 1 stick of butter on and under the skin and cook covered for 45 minutes. Then cook uncovered for another 20 minutes.
Serve with Blythe's Cranberry Jam