Brussels Sprouts With Hot Bacon Vinaigrette
By
Paula Deen
JUMP TO RECIPE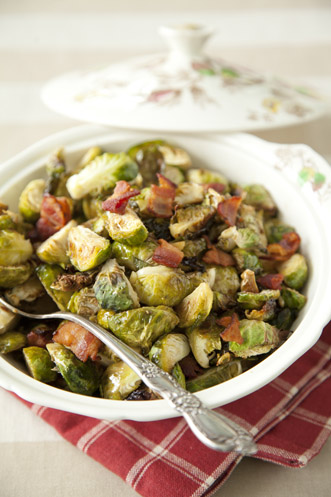 Difficulty: Easy
Prep time: 15 minutes
Cook time: 30 minutes
Servings: 6 to 8
Ingredients
10 slices chopped bacon
3 lbs quartered Brussels sprouts
2 tablespoons olive oil
1 teaspoon kosher salt
1/2 cup balsamic vinegar
2 tablespoons firmly packed brown sugar
1 teaspoon dijon mustard
Directions
Preheat the oven to 400 °F. Line a rimmed baking sheet with aluminum foil.
Cook the bacon until crisp in a large skillet. Remove the bacon using a slotted spoon, and drain on paper towels. Reserve 1/4 cup drippings in the skillet.
Combine the Brussels sprouts, olive oil and salt in a large bowl. Place the sprouts on the prepared baking sheet and bake until tender, about 20 minutes.
Add the vinegar, brown sugar and mustard to the reserved bacon drippings in the skillet. Cook over medium-high heat, stirring frequently, until the mixture is reduced by half, about 6 minutes. Pour the mixture over the sprouts, tossing gently to coat. Sprinkle with the bacon. Serve immediately.