Aunt Peggy's Meatloaf
By
Paula Deen
JUMP TO RECIPE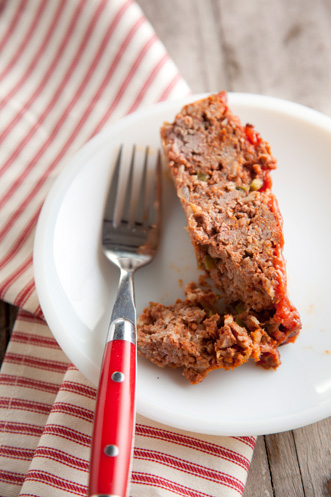 Difficulty: Easy
Prep time: 10 minutes
Cook time: 1 hour
Servings: 4 to 6
Ingredients
1 lb lean ground beef
1 (6 oz) can tomato paste
1/2 cup chopped Vidalia onion
1/2 cup chopped green bell pepper
1/2 cup quick cooking oats
1 lightly beaten egg
1 teaspoon salt
1/4 teaspoon pepper
1/3 cup ketchup
2 tablespoons packed light brown sugar
1 tablespoon dijon mustard
Directions
Preheat the oven to 375 °F.
In a large bowl, combine the ground beef, tomato paste, onions, green pepper, oats, egg, salt and pepper. Shape the mixture into a loaf and place it in a 9 by 5-inch loaf pan.
In a small bowl, whisk together the ketchup, brown sugar and mustard. Slather the glaze on top of the meat loaf and bake until the meat loaf is firm and cooked all the way through, about 1 hour. Serve hot.