Brown Sugar Pound Cake
By
Paula Deen
JUMP TO RECIPE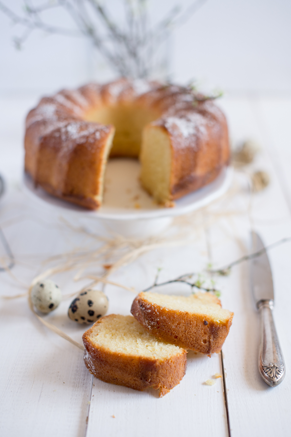 Difficulty: Medium
Prep time: 30 minutes
Cook time: 1 hour 15 minutes
Servings: 12-15
Ingredients
3 sticks softened, divided butter
1/2 cup shortening
1 (16 oz) box dark brown sugar
3 cups plus 1 more cup granulated sugar
5 eggs
3 1/2 cups cake flour
1/2 teaspoon baking powder
2 cups divided milk
1 1/2 teaspoons vanilla extract
1 beaten egg
1/2 cup water
1 teaspoon white vinegar
1/8 teaspoon salt
Directions
Preheat oven to 300 °F. Grease and flour a 10-inch Bundt pan.
Using an electric mixer, cream together 2 sticks butter and shortening and add the dark brown sugar and 1 cup granulated sugar, 1 cup at at time, continuing to beat. Add 5 eggs one at a time, beating well after each addition. Sift flour and baking powder together in another bowl and add alternately with 1 cup milk to creamed mixture, beginning and ending with flour mixture. Add vanilla and mix well. Pour batter into prepared pan. Bake for 2 hours.
To prepare frosting, mix together 1 beaten egg and 1 cup milk and set aside. Place 1/2 cup granulated sugar in a heavy saucepan. Cook over medium-low heat, stirring constantly until melted and brown. Add water and stir until sugar is dissolved. Add remaining 2 1/2 cups granulated sugar. Mix egg with milk and stir into sugar mixture. Add 1 stick butter, vinegar, and salt. Cook to softball stage (236 °F on a candy thermometer), stirring constantly. (A small amount dropped in a glass of water will form a soft ball. If you remove it from the water it will flatten out). Cool to lukewarm. Beat until creamy and spread on cake.