Chocolate Pecan Layer Cake
By
Paula Deen
JUMP TO RECIPE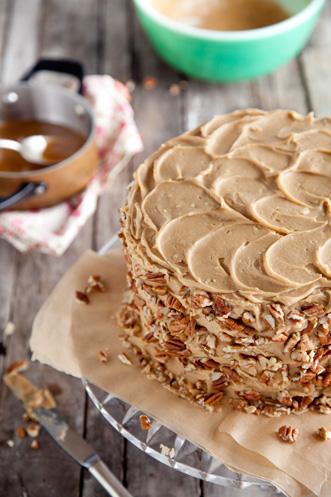 Difficulty: Easy
Prep time: 45 minutes
Cook time: 30 minutes
Servings: 8-10
Ingredients
1 cup unsweetened cocoa powder
1 1/2 cups boiling water
3 cups sifted cake flour
1 1/4 teaspoons baking soda
1 teaspoon salt
1/2 pound (2 sticks) softened softened butter
3 1/3 cups divided packed light brown sugar
3 eggs
3 3/4 teaspoons vanilla extract
2 1/2 tablespoons milk
16 tablespoons (2 sticks) divided butter
2/3 cup packed dark brown sugar
1/4 cup plus more, if necessary heavy cream
2 1/2 cups confectioner's sugar
1 cup chopped pecans for garnish
Directions
For the cake: Preheat the oven to 350 degrees F. Grease 2 (9-inch) round cake pans and line them with parchment paper.
Stir together the cocoa and boiling water until the cocoa dissolves.
In a large bowl, whisk together the flour, baking soda, and salt. In a separate large bowl, using an electric mixer, beat 2 sticks butter and 2 cups light brown sugar until fluffy, about 2 minutes. Scrape down the sides of the bowl and beat for 1 minute more. Beat in the eggs, 1 at a time. Beat in 2 teaspoons vanilla extract. Beat in the flour mixture and the cocoa mixture in three alternating additions, beginning and ending with the flour. Scrape down the sides of the bowl after each addition.
Divide the batter between the pans. Bake until the center of the cake bounces back when gently pressed and a tester inserted in it comes out clean, about 25 minutes. Allow the cakes to cool in their pans for 10 minutes, and then invert them onto a wire rack to cool completely.
For the filling: Combine 1 1/4 sticks butter, 1 1/3 cups light brown sugar, and milk in a medium saucepan. Cook over medium heat, stirring constantly, until the butter is melted and the sugar is dissolved, 3 to 5 minutes. Remove from the heat and stir in 3/4 teaspoon vanilla. Prick the cooled cakes all over with a toothpick. Spread half the filling on 1 cake layer. Top with the second layer and repeat.
For the frosting: Melt 3/4 stick butter in a small saucepan over medium heat and stir in the dark brown sugar and cream. Bring the mixture to a simmer and transfer it to a mixing bowl. Add the confectioners' sugar and 1 teaspoon vanilla and beat until the frosting is a spreadable consistency. Add more cream, 1 tablespoon at a time, if the frosting is too thick. Frost the top of the cake and sprinkle with the chopped pecans. Store in an airtight container at room temperature. The cake will keep for 3 to 5 days.