Bananas Foster
By
Paula Deen
JUMP TO RECIPE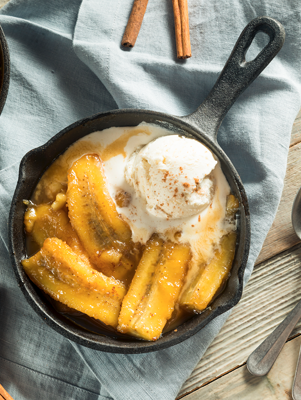 Difficulty: Medium
Prep time: 10 minutes
Cook time: 15 minutes
Servings: 4
Ingredients
1/4 cup dark rum
4 peeled, halved and cut lengthwise bananas
1/2 cup brown sugar
1 stick butter
(optional) ice cream
(optional) pound cake
Directions
In a large skillet, melt butter. Using a wooden spoon, add brown sugar and stir together. Add the bananas and cook until caramelized on both sides, over medium-high heat.
Move pan off heat, add the rum and return to the stove to catch a flame from the gas stove or a long lighter. Stand back when ignited and flambé the bananas. Be careful, the flame will shoot up above the pan. Let flame die down and the alcohol cook out.
Serve bananas over vanilla ice cream and/or a slice of pound cake.