Brooke's Meatloaf with Sun-Dried Tomatoes and Fresh Mozzarella
By
Brooke Deen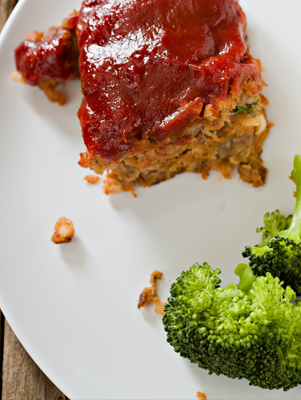 Prep time:

10 minutes

Cook time: 60 minutes
Servings: 8
Ingredients
1 medium onion, finely chopped
2 cloves garlic, minced
2 large eggs, lightly beaten
½ cup chopped sun-dried tomatoes, drained from oil
1 cup fresh breadcrumbs (see Ingredient Note)
1 ball fresh mozzarella, finely chopped
1¼ cups basic tomato sauce
¼ cup fresh basil
Kosher salt
freshly ground black pepper
2 pounds lean ground beef
Directions
Preheat the oven to 350˚F. Line a sheet tray with foil.
To a large mixing bowl, add the onion, garlic, eggs, sun-dried tomatoes, breadcrumbs, mozzarella, ¼ cup of the tomato sauce, and basil and give it a good stir to combine. Season the mixture with a generous pinch of salt and pepper. Add the beef, season with another pinch of salt and pepper, and toss it all together with your hands, just until combined. (Be sure not to overdo it or the meatloaf will be dense and heavy rather than nice and light.)
Plop the beef down on the prepared sheet tray and use your hands to form it into a loaf shape. Drizzle the top with ¾ cup of the remaining tomato sauce and bake for 55 minutes. Drizzle the remaining ¼ cup tomato sauce on top and cook for 5 minutes more, for a total of 1 hour.
Remove the meatloaf from the oven and let it rest for 10 minutes before slicing it up and serving.
Ingredient Note
It's important to use fresh breadcrumbs here. To make them, add a 4-ounce chunk of baguette to a food processor and grind it up until it's a fine texture.