Bourbon Glazed Pork Chops
By
Paula Deen
JUMP TO RECIPE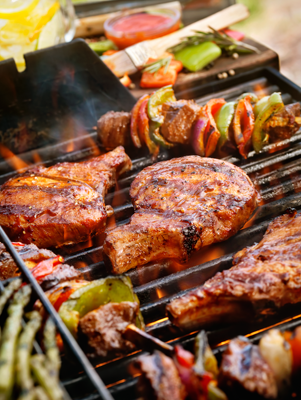 Difficulty: Easy
Prep time: 10 minutes
Cook time: 20 minutes
Servings: 2
Ingredients
2 tablespoons dijon mustard
1 teaspoon packed dark brown sugar
1 tablespoon bourbon
2 1 pound 1 1/2 inches thick center cut bone-in pork chops
1 minced clove garlic
as needed, recipe follows Paula Deen's House Seasoning
1 cup salt
1/4 cup black pepper
1/4 cup garlic powder
Directions
Prepare a medium-hot grill.
In a bowl, mix together the mustard, brown sugar, and bourbon. Rub the pork chops with the garlic and house seasoning, then brush with half the glaze.
Place the chops on the grill. Grill until the chops are slightly charred and cooked, about 20 minutes. Brush with the remaining glaze before serving.
The Lady's House Seasoning:
Mix the ingredients together and store in an airtight container for up to 6 months.