Bobby's Egg White Omelets with Spinach and Tomato
By
Deen Brothers
JUMP TO RECIPE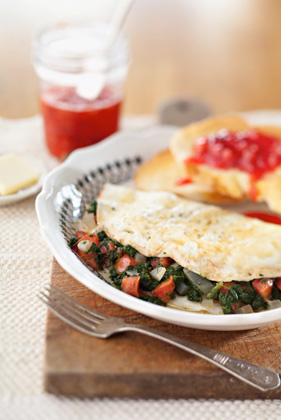 Featured in:
The Deen Bros. Y'all Come Eat
Difficulty: Easy
Prep time: 10 minutes
Cook time: 12 minutes
Servings: 4
Ingredients
4 teaspoons extra virgin olive oil
1 small onion
Salt
1 10-ounce package frozen chopped spinach
4 plum tomatoes
Freshly ground black pepper
12 egg whites
2 tablespoons water
Nonstick cooking spray
Directions
In a small skillet, heat the oil over medium heat. Add the onion and a pinch salt; cook for 3 to 5 minutes or until onion is softened. Add the spinach; cook and stir until hot. Add the tomatoes, pepper to taste, and another pinch salt; cook and stir for 1 minute. Remove from heat; cover and keep warm.
In a medium bowl, whisk the egg whites, water, and a pinch salt until frothy. Lightly coat a medium nonstick skillet or omelet pan with cooking spray; heat skillet over medium heat. Add one-fourth of the egg whites, swirling to evenly cover the bottom of the pan. Cook for 1 1/2 to 2 minutes or until set, using a rubber scraper to mix the eggs occasionally and to lift them up and let the runny egg flow underneath. Spoon one-fourth of the spinach mixture
onto half of the omelet, fold over, and slide onto a plate. Repeat with remaining egg whites and spinach mixture.