Beer Battered Fish and Chips
By
Paula Deen
JUMP TO RECIPE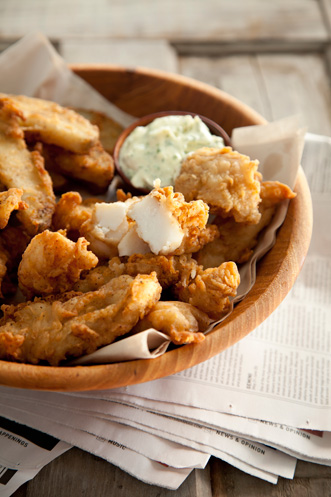 Difficulty: Medium
Prep time: 25 minutes
Cook time: 30 minutes
Servings: 4
Ingredients
1/2 teaspoon Paula Deen's House Seasoning
2 cups all purpose flour
1 (12 oz) bottle beer
4 large cut into French fry strips baking potatoes
1 1/2 lbs skinned with bones removed, and fish cut diagonally into 1-inch-wide cod fillets
Directions
In a Dutch oven, heat oil to 375 °F.
Fry potatoes until golden brown, roughly 10 minutes removing with a slotted spoon or spider. Hold in low oven to keep warm while cooking the fish.
Preheat oven to 225 °F.
Batter:
In a large bowl, pour in 1 bottle of beer. Sift 1 1/2 cups flour into the bowl, whisking in gently until just combined, stir in House Seasoning. Pat fish dry and season on both sides with salt and pepper and coat the fish in the beer batter. Dredge the pieces of fish in 1/2 cup of remaining flour and slide into oil as coated. Fry fish, turning over frequently, until deep golden and cooked through, 4 to 5 minutes. Transfer to a paper towel-lined baking sheet and keep warm in oven. Fry remaining fish in batches, returning oil to 375 °F between batches.
Serve fish with French fries/chips.