Jalapeño Hushpuppies
By
Tricia Yearwood
JUMP TO RECIPE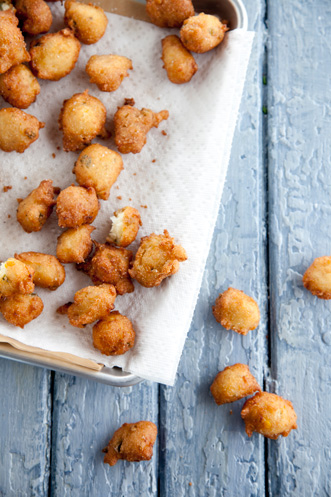 Difficulty: Easy
Prep time: 15 minutes
Cook time: 3 minutes
Servings: 6
Ingredients
1 1/2 quarts peanut oil, for frying
1 1/2 cups self rising cornmeal
1 cup self rising flour
1/2 cup chopped onion
1 (7-oz) can diced jalapeño peppers, drained, or 3/4 cup fresh jalapeños, seeded and finely diced
1 (15-oz) can creamed corn
2 large eggs, lightly beaten
salt, to taste
freshly ground black pepper, to taste
Directions
Heat the oil to 350°F. in a deep-fryer or Dutch oven.
In a 1-quart mixing bowl, stir the cornmeal, flour, onion, jalapeño, corn, and eggs, until blended. Allow to stand 5 minutes.
Drop the batter by teaspoonfuls into the hot oil. Don't overcrowd; leave room for the hushpuppies to be turned. Cook the hushpuppies until golden brown, about 3 minutes. Remove from the oil with a slotted spoon and drain on paper towels. Keep the cooked hushpuppies warm in an oven while cooking the remaining batter. Lightly sprinkle with salt and pepper, to taste, and transfer them to a serving dish. Serve with Paula Deen's Sweet and Spicy Chili Sauce, if desired.