Chicken-Fried Steak With Cream Gravy
By
Paula Deen
JUMP TO RECIPE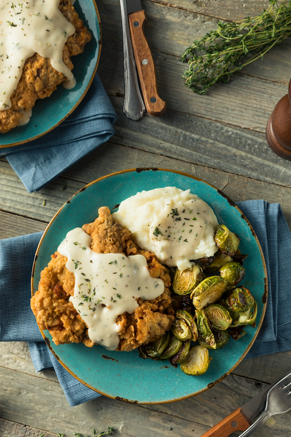 Difficulty: Easy
Ingredients
buttermilk, for dipping
2 large egg whites
1/2 cup plus 1 tbsp all purpose flour
1/2 tsp plus more to taste ground black pepper
3/4 tsp plus more to taste salt
1/2 tsp garlic powder
4 lean, 4 oz. each cubed round steak
3 tbsp canola oil
3 tbsp or scallion finely chopped onion
1/2 cup low sodium chicken broth
1/4 cup milk
Directions
In a shallow bowl or pie plate, whisk the egg whites with 2 teaspoons water. In a separate bowl or pie plate, whisk together 1/2 cup of the flour, the salt, pepper and garlic powder. Dip the steaks, one at a time, into the buttermilk. Then, dip each steak into the egg whites, letting any excess drip off. Lastly, dip the steaks into the flour mixture. Gently shake each steak to remove any excess.
In a large nonstick skillet, heat 2 tablespoons of the oil over medium-high heat. Add the steaks and cook until well-browned, 3 to 4 minutes per side. Transfer to a paper towel-lined plate to drain.
Add the remaining 1 tablespoon oil to the skillet. Add the onion and cook over medium heat until soft, 3 to 5 minutes. Stir in the remaining 1 tablespoon flour and cook for 1 minute. Slowly whisk in the chicken broth and milk. Simmer until the gravy is thick and bubbly, about 2 minutes. Season to taste with salt and pepper. Serve the steaks with the gravy over the top.