Lighter Chicken Fried Steak
By
Deen Brothers
JUMP TO RECIPE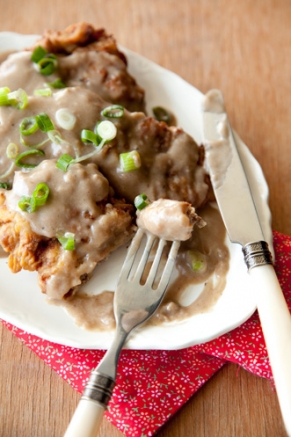 Difficulty: Easy
Prep time: 10 minutes
Cook time: 10 minutes
Servings: 10
Ingredients
2 lightly beaten egg whites
1/4 cup fat-free milk
1/2 cup plus 1 tablespoon all purpose flour
3/4 teaspoon Paula Deen House Seasoning
4 teaspoons vegetable oil
4 (4 oz) lean cubed round steaks
6 thinly sliced scallions
3/4 cup reduced-sodium chicken broth
Directions
Whisk together the egg whites and 2 tablespoons of milk in a shallow dish or pie plate. Combine 1/2 cup of the flour and 1/2 teaspoon of House Seasoning on a sheet of wax paper. Dip the steaks, one at a time, into the egg whites, then into the flour mixture.
Heat 2 teaspoons of oil in a large nonstick skillet over medium-high heat. Add the steaks and cook until browned, about 3 minutes per side; transfer to a platter and keep warm.
To make the gravy, add the remaining 2 teaspoons of oil to the skillet over medium-high heat. Add the scallions and cook, stirring occasionally, until softened, about 2 minutes. Stir in the remaining 1 tablespoon of flour; cook 1 minute. Whisk in the broth, the remaining 2 tablespoons of milk and the remaining 1/4 teaspoon of House Seasoning and bring to a simmer. Cook, stirring, until the gravy bubbles and thickens, about 2 minutes. Divide the steaks among 4 plates and serve with the gravy.