Lighter Beer Battered Fish and Chips
By
Deen Brothers
JUMP TO RECIPE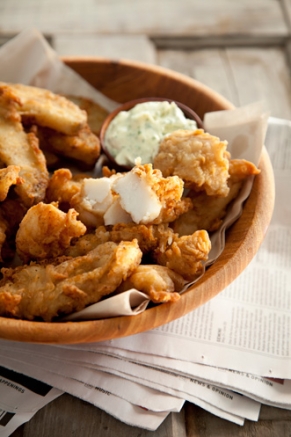 Difficulty: Easy
Prep time: 10 minutes
Cook time: 10 minutes
Servings: 10
Ingredients
2 (8 oz) scrubbed baking potatoes
1 teaspoon Paula Deen House Seasoning
6 tablespoons all purpose flour
1/3 cup light beer
1 large egg white
1 1/4 cups cornflake crumbs
2 (8 oz) each cut into 4 pieces cod fillets
2 tablespoons canola oil
Directions
Preheat the oven to 475 °F.
Halve the potatoes lengthwise. Cut each half into 4 wedges making a total of 16 wedges. Place the wedges on a nonstick stick rimmed baking sheet. Lightly spray with nonstick spray and sprinkle with 1/2 teaspoon of the House Seasoning. Arrange the potatoes in a single layer and bake until the bottoms are golden and crisp, about 15 minutes. Turn the potatoes and bake until crisp, about 15 minutes longer.
Meanwhile, to make the fish, whisk together the flour, beer, egg white and the remaining 1/2 teaspoon House Seasoning in a medium bowl. Place the cornflake crumbs on a sheet of wax paper. Dip each piece of fish into the batter, then into the crumbs, pressing to adhere.
Heat the oil in a large nonstick skillet over medium-high heat. Add the cod in batches, in a single layer, and cook until browned, 3 to€" 4 minutes on each side. Serve the cod with the potatoes.