BBQ Pork Sandwich
By
Paula Deen
JUMP TO RECIPE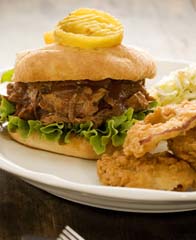 Difficulty: Easy
Prep time: 2 hours 30 minutes
Cook time: 4 hours
Servings: 6
Ingredients
2 tablespoons salt
2 tablespoons black pepper
2 tablespoons dark brown sugar
2 tablespoons paprika
1/2 tablespoon cayenne pepper
4 lbs shoulder pork roast
2 cup apple juice
1 cup apple cider vinegar
2 tablespoons Worcestershire
1/2 tablespoon liquid smoke
1/2 tablespoon garlic powder
6 soft hamburger buns with seeds
Paula Deen BBQ Sauce
coleslaw
Directions
Mix the dry (salt, pepper, sugar, paprika and cayenne) in small bowl. Sprinkle dry rub all over the pork roast, pressing into the pork.
Cover with plastic and refrigerate for at least 2 hours.
Preheat oven to 325 °F.
Combine apple juice, vinegar, Worcestershire, liquid smoke and the garlic powder in a medium bowl and pour into a large Dutch oven. Place pork in the oven and tightly cover with aluminum foil then lid. Roast for 4 hours or until fork tender and shreds easily.
Brush the roast with cooking liquid every hour.
Remove from oven and let stand until cool enough to handle. Shred the pork with a fork or tongs into bite size pieces.
Serve on hamburger buns topped with BBQ sauce and cole slaw.