BBQ Meatball Appetizer
By
Paula Deen
JUMP TO RECIPE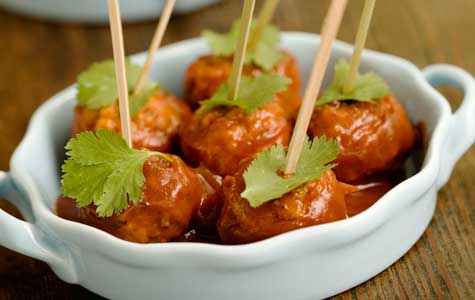 Difficulty: Easy
Prep time: 30 minutes
Cook time: 1 hour
Servings: 15
Ingredients
2 lbs ground beef
1 lb ground pork
1 cup evaporated milk
1 cup dry breadcrumbs
2 large eggs
2 tablespoons olive oil
1 finely chopped onion
2 stalks finely chopped celery
2 cloves minced garlic
1 1/2 teaspoons salt
2 teaspoons chili powder
1/2 teaspoon black pepper
1 jar Paula Deen BBQ Sauce
Directions
In a small sauté pan, heat olive oil and saute onions,celery and garlic until onions are translucent.
Set aside.
In a large mixing bowl, combine ground beef, ground pork, milk, bread crumbs, eggs, onion mixture, salt, chili powder and pepper. Mix well.
Shape mixture into 1-inch balls. Place in a single layer on cookie sheets lined with waxed paper.
Freeze until solid; transfer to freezer bags until ready to cook.
Place frozen meatballs in a 13- by 9-inch baking dish; pour sauce over them. Bake for about 1 hour at 350 °F. Serve warm.